When you are choosing the best blender to make your fresh and healthy smoothies, the top brand you should consider is Ninja Fit vs Nutribullet, right? It causes you a headache to compare the pros and cons of a blender of these two well-known brands. It is quite hard to make a comparison among these brands as they all provide customers with the greatest nutrient-extraction blenders.
Blenders are not only to make smoothies, but you also can blend nuts to cook almond milk and even hot and delicious soups. Furthermore, they are also effortless to detach and clean every part. Therefore, there is a huge debate among these two excellent blender brands – which product is greater.
Both Nutribullet and Ninja Fit offer you the finest creamy and nutritious smoothies that take a few minutes to make. A blender is irrefutable an appliance that every home should have.
Understanding your problems, we provide you this article to highlight the pros and cons of Ninja Fit vs Nutribullet blenders so that you can make the right decision. Let's dive in and discover some exciting things.
Ninja Fit vs Nutribullet Blenders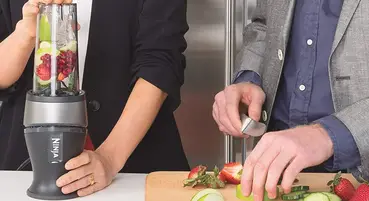 Ninja is a well-known brand producing functional and innovative household devices, especially blenders. It offers consumers a wide range of eye-catching and modern blenders. They are all versatile and easy to use. In the Ninja Fit line, we highly evaluate the Ninja BL451 Nutri Pro model that you should consider. This is the simplest and sleekest product in Ninja's lineup.
On the other hand, Nutribullet is also a popular store that specializes in single-serve countertops and personal blenders. All their blender products ensure customers with high durability and long-lasting use, so you do not have to worry about their quality. Today we will bring you the best compact and minimalist product in Nutribullet's lineup, which is Nutribullet 1000W PRIME Edition. 
So let's dig deeper into these two excellent blenders.
Product Range Comparison
Ninja BL451 Nutri Pro Blender
Nutribullet 1000W PRIME Edition Blender
There are several huge differences between Ninja Fit vs Nutribullet blenders that we will write down for you now. The detailed comparison of these two models will ease much of your research. Let's take a look at these outstanding points in detail.
Blade
Ninja BL451 and Nutribullet 1000 Pro all have a system of 2 blades that can make constantly smoothly healthy smoothies. You can throw a couple of cups of the complete coffee beans or nuts, and it still blends even them out in the combination.
The clearest distinction is the design of blades:
Nutribullet utilizes a blade structure that blends from the top to the bottom and contrary. This will make it effective for the blender to blend ingredients perfectly and equally. This is the reason why Nutribullet blenders always bring the ultimate vitamin and nutrient extraction. It stirs together all food ingredients.
On the other hand, Ninja Fit blades are normally thicker compared to the blades of Nutribullet Pro.
However, Nutribullet blenders have faced some issues claimed by customers that when it makes smoothies or milkshakes with weighty ingredients, the blades are hesitant. Sometimes, you may have to stop the blending process and need to shake the blender can or mix the fruits up with a spoon prior to re-blending. When blending ice, Nutribullet products are quite weak.
Owing to the strong blades of Ninja BL451, its function in blending always goes far beyond our expectations. Ninja blender will not bring you an annoying lump, out-of-place bits, and chunk in your fresh smoothies or delicious soups. It is perfect for blending lefties such as celery, seeds, or nuts and also crushing ice and strawberries.
Design and Quality
Both of the blenders from Ninja Fit and Nutribullet we highly recommend for you above have a stylish and elegant look. They will look excellent and eye-catching to place in your counter thanks to their sleek designs. However, we slightly have a vote for the Nutribullet as its minimalist design.
For materials, we prefer Nutribullet as it is made of stainless steel which will assure you about high-quality performance and durability. On the other hand, Ninja BL451 is entirely produced by plastic, but it still offers you a strong and well-made structure.
Ninja Fit BL451 blender comes with BPA-free components. People normally go for a blender with a glass cup as they think plastic will be scratched effortlessly and not long-lasting use. However, this Ninja model is excellently strong and powerful. A problem with this device is that the suction ring on the lid often has residue. Besides, the rubber bottom of this Ninja may wear away fairly quickly. But you do not have to worry about that as you will be backed by the manufacturer if your warranty is still expired.
The construction of Nutribullet 1000W PRIME is super durable. It is made of stainless steel for ultra-sustainability. However, some users claim that using this blender for a long period of time, the smell of burning tires or electricity has appeared. Therefore, you should keep in mind that almost all blenders ought not to use for over 40 seconds at once. Furthermore, the lid of Nutribullet 1000W is not that firm, so you have to pay attention when blending, otherwise, your smoothies may leak out, making your kitchen more tricky to clean.
Although both blenders have some drawbacks, the benefits they offer for you are a big gift. So do not hesitate and bring one today to home. We also have some other quietest smoothie makers for you to refer to.
Motor
If you compare BL451 Ninja Fit vs Nutribullet 1000W blenders, their motors are all-powerful and are able to blend fresh fruits and vegetable ingredients.
The Ninja BL451 blender is excellently great at blending ice as well as frozen fruits, which is perfect if you often want a cold and fresh treat to concoct. As a result, these two products we recommend for you are similar, and it will depend on you to choose which one is suitable for your needs and preferences.
These two blenders are controlled with solely a single speed. The settings do not have variations to choose and adjust for particular ingredients. In conclusion, we would say that the motor of both appliances is identical.
Capacity of Cups
The number of cups will influence the model's capacity. The Nutribullet 1000W is presented with 2 cups which are 28oz and 32oz. All cups are BPA-free and made of plastic that is harmless and high-impact. The cups in the Nutribullet blender will avoid shattering if you accidentally drop them on the floor. That proves how sturdy they are. These cups are produced from plastic materials that are heavy-duty and safe to utilize clumsy users.
On the other hand, BL451 Ninja Nutri Pro provides you 3 different sizes of cups which are 12oz, 18oz and 24oz. They are also BPA-free and created from Tritan stuff. The cups of these two blenders are conveniently portable as they possess lids that are sealable, making them easier for those who are often in a rush.
Meanwhile, Nutribullet's cups are slimmer so that you can find them more easily to well-match in your cup holders. The cups are effortless for everyone on the go as they own seal lids that avoid the juices or smoothies from spilling when carrying them or drinking.
In the cleaning process, both Ninja Fit vs Nutribullet blenders is safe for dishwashers and super simple to clean. However, we would recommend you wash them by hand to keep the component longevity. Several elements of 2 blenders are structured that would not need to be cleaned.
Price
The two excellent blenders we highly suggest for you to choose from have a different price. The disproportion is not that much. Although the prices are fairly expensive, you will truly get what you pay for. You can check it regularly as both blenders are often on-going sales. Therefore, you ought to research more if you wish to achieve the finest deals.
The Nutribullet blenders have a lower price than Ninja Nutri Pro. Along with considering the cost, you should notice that Ninja's customer support is one of the greatest things of enhancement than Nutribullet's support online. Nevertheless, both appliances receive plenty of good reviews and are highly rated on online markets.
Furthermore, one thing you should know is that if you wish to make the Nutribullet lids replacement, these set you 10 bucks back in case you purchase a pack of two. Whilst, Ninja Pro lids charge 10$ for an item. So to compare the cost, the Nutribullet is in a way cheaper. We offer you some cheap juicers that you may need to refer to if you are on a tight budget.
Durability
In this aspect, we would say Nutribullet is greater compared to Ninja Pro blender. This is because it received lots of positive reviews and has been widely utilized by nutritionists. On the contrary BL451 Ninja Nutri Pro has been complained about customers hearing rambunctious sounds after 1 usage year.
Several models of Nutribullet blenders are present with blades for milling, which are extremely helpful for those who are on a keto diet. The attached milling blades are excellent for grinding oats, grains and coffee beans.
A majority of group people are concerned about the bullet blender device. As that is a small inconvenience, however, Ninja Pro is normally required to be shoved down with pressure when blending. Unsimilar to that, Nutribullet is just simply pushing and locking. The Ninja BL451 weighs only 7.6 pounds, which is slightly lighter than the Nutribullet with 10 pounds.
Compare Ninja Fit vs Nutribullet blenders' lifespan, we would say everyone wants a product that lasts as long as possible. You are well served by the BL451 Ninja model for a year and more. This brand will back you with a great warranty if you see defects. Nutribullet 1000W blender also gives you a warranty to operate excellently well for 1 year and so. Nonetheless, it would provide the greatest performance if you keep in mind that every 6 months you should replace the blades.
This short video will show you how to choose a blender effectively, which may be helpful for you before deciding to pick any of these two:
Ninja BL451 Nutri Pro vs Nutribullet 1000W: Who Wins?
In order to decide between Ninja Fit vs Nutribullet blenders is quite tricky, right? These two BL451 Ninja and Nutribullet 1000W we suggest today are great to take into consideration. However, Ninja Nutri Pro is the overall winner in our Ninja Fit vs Nutribullet comparison.
Ninja BL451 model will be your best device if you wish to make smoothies continuously. When you wish to blend frozen, thicker ingredients or ice, Ninja is excellent in blending those items. Besides, the Ninja Fit brand offers customers an enormous range of household appliances such as coffee makers, blenders, food processors and cookers. All of their products equip FreshVac, which is a pump with one-touch that eliminates oxygen prior to blending to guarantee flavors, nutrients and vitamins are extracted. FreshVac is special to Ninja, it does not feature in other blenders. You can check some of our best blenders for frozen fruit smoothies, which are similar to Ninja. 
On the other hand, the Nutribullet is excellent for those who often cook soups, smoothies or protein shakes. When it comes to blending bigger items with stems and skin left, this Nutribullet 1000W is also a great choice. Furthermore, the big 32 oz cup with a firm lid is also a good thing if you are always in a rush. As you can bring it with you without worrying about dropping it. However, Nutribullet 1000W often faces some leaking problems, which might be a disadvantage that would make you vote for Ninja BL451. In case you are a newbie and want to have a combo of blender juice, there are some excellent choices.
But in conclusion, both blender products are perfect for the particular blending required with a small difference in price relying on specific accessories attached.
So which one do you think is better: Ninja BL451 Nutri Pro vs Nutribullet 1000W? This is all about the comparison of Ninja Fit vs Nutribullet blenders we provide you today. Hope this article is useful for you. Tell us your thoughts about our post and hope you can soon pick one of these two to buy cheers.